Medardo Rosso
Medardo Rosso
The soft impression that comes when you close your eyes and remember a person you can never forget; the illusion that you are seeing a photograph capturing a moment in time—this is the world of Medardo Rosso's art. Sculptures made of thick wax over plaster, these pieces give the impression of soft faces and bodies wrapped in a veil of faint light.
Rosso famously said, "We are nothing but a play of light." His revolutionary "painting-like sculptures" are said to have had a great influence on sculptors who came after him such as Picasso, Boccioni, and Brancusi.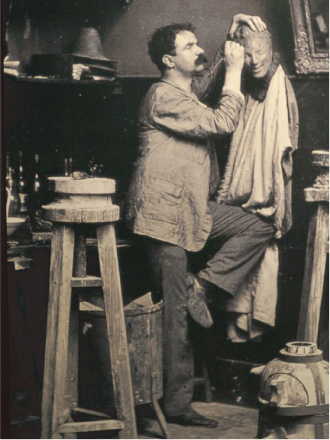 Rosso paid great attention to the effect of light on sculpture and incorporated Impressionist techniques using bold broad strokes to create sketch-like depictions in sculpture.
"There are no boundaries in nature, and so there should be no boundaries in art. When I create a portrait sculpture, I cannot limit myself to the outline of a face. That face continues into a body, and further, that face exists within its surroundings. I cannot ignore that context," Rosso wrote.
Depicting the momentary expression or attitude of everyday people, especially the elderly and children, Rosso sculpted the light, shadow, and feeling in the air at the very moment he captured.
Born in Turin, Rosso studied for a short time at the Brera Academy in Milan before moving to Paris, where he worked at the studio of Jules Dalou (1838-1902). It was here that he met Rodin. Rosso was not particularly prolific, and less than 40 of his sculptures exist today. The museum's Rosso Collection contains 14 Rosso pieces, including Sick Child (1889), Sick Man in Hospital (1889), Meddling Old Lady (1883), and Gavroche (1882-83).
Sick Man in Hospital was inspired by what Rosso observed during the month he spent in the hospital in Paris after falling ill. An old man in a bathrobe, asleep in a chair, chin on chest, appears to bubble up from the floor beneath him, appearing like a dense rough sketch. The piece gives the impression that the man has nearly dissolved into the still air around him.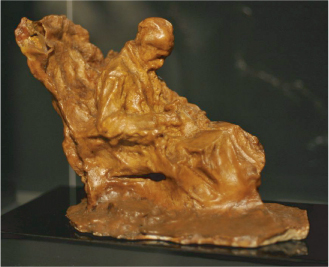 Sick Man in Hospital (1889)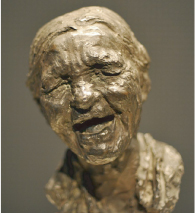 Meddling Old Lady (1883)