Kids & Family
Visitors with Children
Stroller use
Strollers are available free of charge at the Main Gallery and New Gallery Information Desk.
Infant Nursing Room
Located in the Main Gallery.
Hands-on Art
Hands-on Art: Children can go inside and play in these structural pieces.
The aim is for children to naturally discover the beauty created by colors and light, and the enjoyment of structural art pieces.
Woods of Net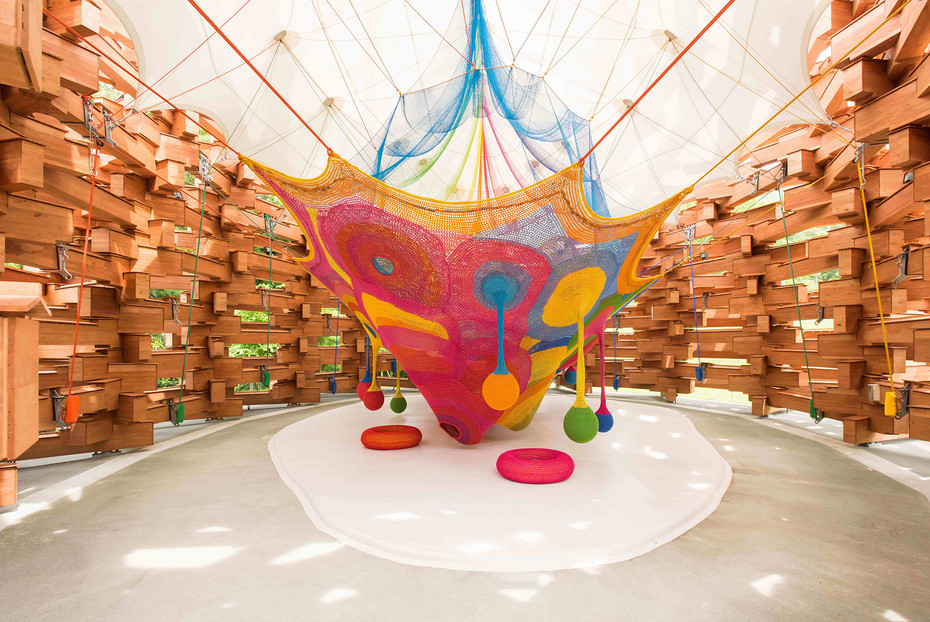 Facility Name: Woods of Net
Net Artwork: Toshiko Horiuchi (Unknown Pockets 2: A Gift.)
2009, 600 X 1,500 X 2,000 cm
Hand-dyed nylon cords, crocheted by hand
Inside a wooden dome of stacked, glued laminated lumber is a giant hammock made of many colorful, interconnected hand-knit nets.
This hands-on piece of artwork lets kids experience colors and form with their entire body while climbing, jumping, and sitting on the balls. It has proven extremely popular with kids.
Seven Rules
Only children aged 12 and under are allowed to enter.
Take off your shoes (even on rainy days).
No adults on the white mat (Please limit the number of people accompanying children.)
No running on the white mat.
Do not stack or roll the cushions.
Do not swing the hanging balls wildly.
Do not climb on the outside of the net
・Notes of Caution
 The museum takes no responsibility for accidents, trouble, etc. that arise within this facility.
 This facility may be closed to visitors due to inclement weather.
 In an emergency, please contact the museum office.
Play Spot
Both children and adults alike can enjoy this spot where visitors can try climbing up to the top of a tower.
Symphonic Sculpture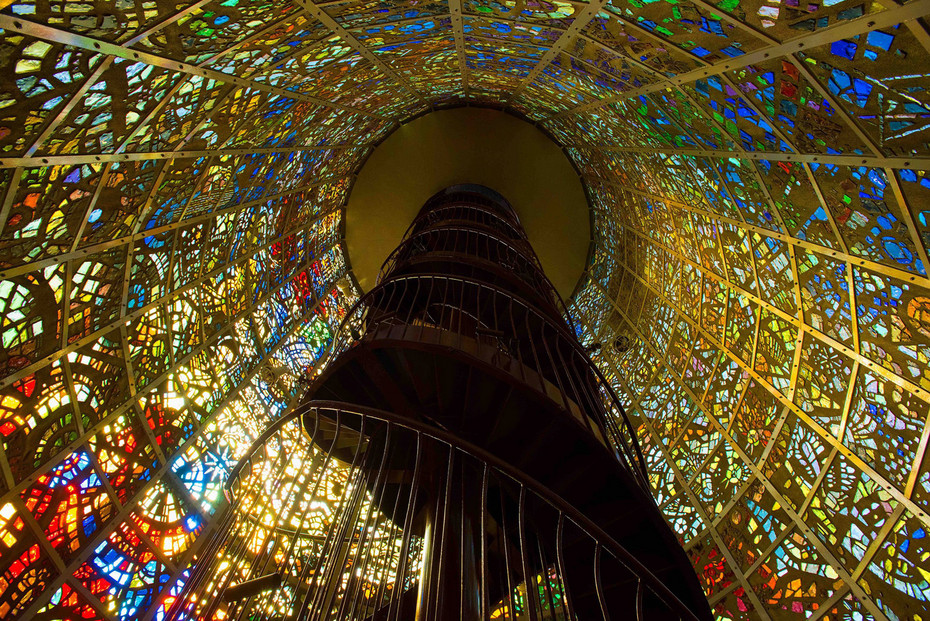 Gabriel Loire (1904–1996, France)
1975
Sculptured glass, iron, epoxy resin
1,800 x 800 x 800 cm
This tower measuring 18 meters tall and 8 meters in inner diameter is constructed throughout of stained glass formed from 2 to 3-cm thick glass fragments that were broken with a mallet. The light from outside penetrates to create a beautiful, extraordinary world. Climb up the spiral staircase to look out on The Hakone Open-Air Museum and the mountains of Hakone.
Fried Egg objet d'art


Sunny-Side Up
Klein Dytham architecture